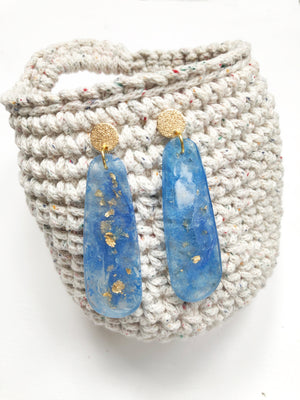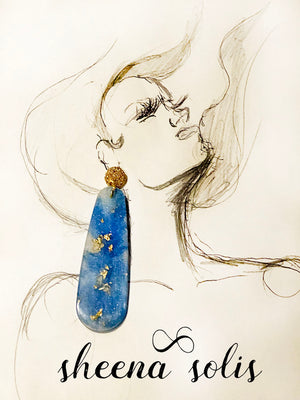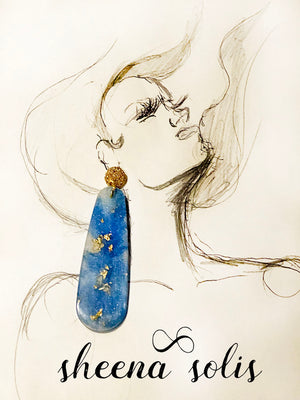 Azul with Golden Flakes Drop Earrings By Sheena Solis
Glimmering blue and white swirling tones and iridescent golden flakes.  Azul the colour of serenity, trust, righteousness mixed with the magical and illuminating colour of gold. People can't help but look at you when you wear these gorgeous statement earrings. Command the world like it's your stage and you are the goddess.  
Comes with a set of three complementary fashion illustration greeting note cards and a signature velvet Sheena Solis pouch. Perfect for gifts or to treat yourself this season! 
Each pair will come with its own unique variation, imperfection and look. Making each order one of a kind. 
~ Handmade and Designed in our Lincoln, England Studio ~
Material: Hammered brass stud with sterling silver backings. Handmade and handpainted blue resin and gold leaf. 
Care Instructions: To care for your statement pieces, avoid exposure to heavy amounts of water ( not for swimming pool use) perfumes, oils and household chemicals. Resin is a strong and durable material but should be treated with care. To keep your jewellery in good condition, simply wipe with a clean, dry cloth.  Due to the nature of statement pieces and wearable art, it is advised to take off earrings before bed or as soon as you have returned home and place them in your jewellery box or the velvet pouch provided.